PRIMAVIEWER – P6 FILE VIEWER
PrimaViewer® is a cost-effective viewer for project schedules created with Oracle's Primavera P6. PrimaViewer ® was developed to provide a tool for all stakeholders (from management to field personnel) to use to view project information, update schedule progress, and make project decisions, without a "full access" license of Primavera P6.
Using PrimaViewer® will help increase stakeholder engagement and it enables your ENTIRE team to view Primavera P6 project information for a fraction of the cost of a Primavera P6 license.
The three (3) primary features of PrimaViewer® include:
XER File Viewer
XER File Comparison (Change Management)
XER File Cleaner (POBS Data)

NEW!
"PrimaViewer® was designed by PMP, PMI-SP and Oracle Certified Professionals as a solution to the LACK OF ACCESS to Primavera P6 data on projects in the Construction and Oil & Gas industries. We wanted to give management and team members "hands-on" access to valuable P6 schedule information in a web-based, simple-to-use format. We aim to change the way companies manage their project controls process, while maximizing their investment in P6!"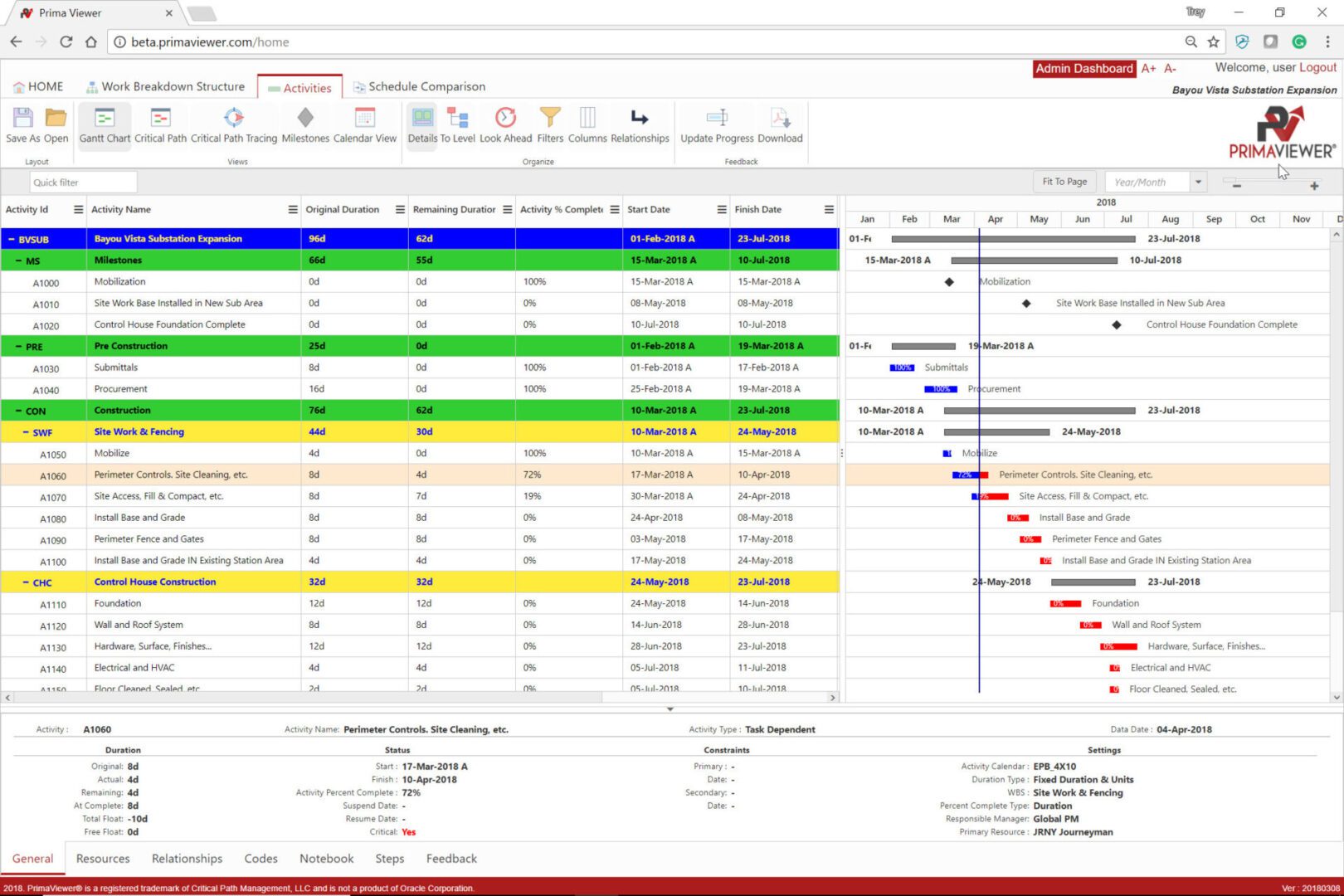 The PrimaViewer® Interface
Just a Few Features
View Primavera P6 file data in a Gantt Chart
Filter Critical Path data
Assess changes made to XER files

NEW!

Perform Critical Path Tracing! (Track critical activities from start to finish of the project!)
Quick Search feature (Search for activities by ID, Name, Duration, Start, Finish, Resources, Cost, Total Float, etc.)
Perform custom lookaheads
Calendar day vs. Workday analysis
Export PrimaViewer

®

output to Microsoft Excel to run unlimited reports.
Progress Updating – Using PrimaViewer

®

, your team members can update work progress (Start date, Percent Complete, Remaining Duration, Finish Date, Notes) and send this data to the PM in minutes!