ORACLE PRIMAVERA CLOUD (OPC)
VIRTUAL LEARNING

Format: Instructor-Led, Virtual
Course Duration: 1 Day
Course Cost: $695
Overview: Today's organizations have a myriad of projects underway at any given time, presenting an enterprise-wide management challenge. Oracle Primavera Cloud (OPC): Schedule helps businesses meet that challenge with powerful project planning and scheduling capabilities.
Oracle Primavera Schedule is ideal for organizations that need to simultaneously manage multiple projects and support multi-user access. It offers CPM scheduling and resource management capabilities plus support for multi-level project hierarchies, resource management, and customizable views. The members of your project teams can easily monitor actual progress against the baseline(s).
Oracle Primavera Cloud: Schedule combines proven schedule management principles with a set of easy-to-use tools to better organize and manage a project schedule. Team members can create a list of activities, specify relationships, add necessary constraints, and assign labor, non-labor, and materials resources. Activities can be logically sequenced into a project schedule using the Critical Path Method. Users can create project scenarios and build a "what-if" version of the schedule, without the worry of impacting the current schedule. Schedule scenarios show how a particular change may affect the schedule, without committing permanent changes to the live schedule.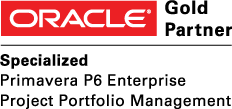 Oracle Primavera Cloud Course Outline