PRIVATE, CUSTOM TRAINING FOR YOUR TEAM
Custom Training at Your Facility or Hosted Virtually
This is our specialty! We have a team of experienced Oracle Primavera and Project Management Institute (PMI) certified instructors that are available to host customized training at your facility, anywhere in the world. We are also available to teach this custom course online, using state-of-the-art web conferencing technology. This flexible, cost-effective option allows you to train as many employees as needed on days and times that fit their schedules.
Simply put, private customized training will bring your group together and get them all on the same page as the training is tailored specifically to their project needs and taught at a pace that maximizes their retention.
Even better, you'll save time and money as the per-student rate is lower as the group size increases and there is no away time for your team members.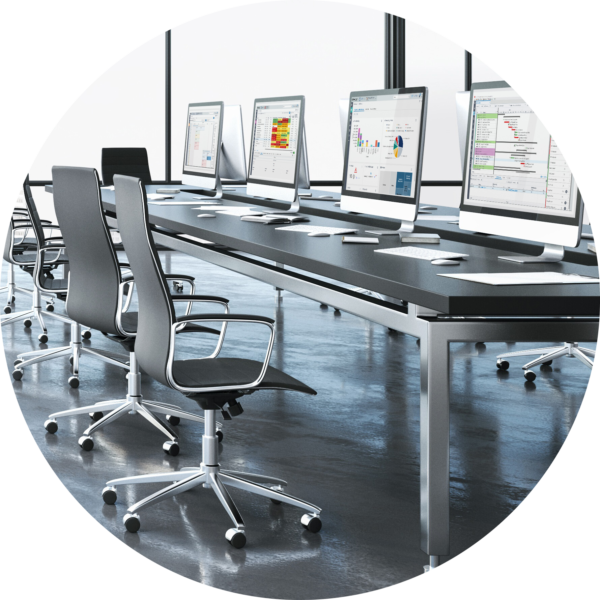 Below are our five (5) most frequently asked questions.
Question #1: Is Global PM Oracle-certified?

Answer: Yes. Global PM is an Oracle Gold partner and is Specialized "Certified" in Primavera P6. Additionally, Global PM instructors maintain numerous certifications from Oracle University and Project Management Institute (PMI).
Question #2: What is the course cost?

Answer: Our fee is $2,495/day plus student materials and instructor travel expenses. Our recommended maximum enrollment is 12 attendees. 
Question #3: How many employees do I need for training in order for it to make sense to host a private workshop?

Answer: At 5, it is typically more cost-effective to have a trainer sent to your facility (or virtual) than to send the attendees to our public courses.
Question #4: Can we have the training customized for our team?

Answer: Yes, we can deliver custom training, with examples from your projects, at no additional cost.
Question #5: Do the attendees get a certificate upon completion of training?

Answer: Yes. A certificate of successful training is issued by Global PM, an Oralce Gold Partner, upon completion of the course.
Virtual Private Training?
No problem. We can host a VILT (Virtual Instructor Led Training) course for your team!
FAQ: What is the cost differnce between in-person training at our facility and virtual private training?

Answer: The day rate and materials fees of the two training options are the same. However, virtual training does not require instructor travel expenses. 
We can host any of the following courses at YOUR facility or VIRTUALLY. All courses may be customized to meet your needs, at no additional cost.

Follow-up Support: We understand that many of your attendees' questions will come AFTER training. This is why we offer 30-days of post-training instructor support as well as 6-months of free refresher course support for all trained (Refresher courses may be attended at any of our public, virtual or in-person workshops.).
Free Course Customization
At NO additional cost, all courses may be modified to meet your team's needs! The first step is to set up a "client coordination call" to discuss your requirements, estimated attendee count, and preferred dates. We will then present date options and begin creating YOUR custom course! The typical lead time for on-site/private training delivery is 3-4 weeks. Also, if you have a smaller group or limited training needs, we can offer a shortened version of the standard course.
You Provide
All you need to provide is ample seating, an internet connection, and PCs for all attendees. If extra PCs are needed, just let us know, we can bring additional machines.
We take care of the rest!
We will provide an experienced, certified instructor, course training manuals (mailed to you ahead of time), and access to our virtual training server (With Primavera P6 (PPM or EPPM) or Primavera Cloud).
Post Training support
We are committed to your success! Training includes 6 months of free refresher support (attend any of our public courses) and 30 days of instructor support.

Please send us your requirements and a Global PM representative will contact you shortly! If you wish to speak with someone now, please give us a call at (985) 781-9190.