New Functionality: Using Swimlanes in Oracle Primavera Cloud 23
In today's fast-paced world of project management, it's essential to have tools and features that streamline processes and improve collaboration among team members. Oracle Primavera Cloud 23 introduces a powerful new functionality – Swimlanes. In this blog, we'll explore what Swimlanes are and how they can revolutionize your project management experience.
What Are Swimlanes?
Swimlanes are a specific variant of flowcharts that provide a visual representation of the individuals or entities responsible for each stage within a process. Think of them as the lanes in an Olympic swimming pool, each representing a specific aspect of your project. With Swimlanes, you can:
Get a Clear View of Workload: Swimlanes group tasks by the responsible party, giving you a bird's eye view of who is accountable for what. This simplifies tracking and ensures that no task falls through the cracks.
Gain Deeper Insights: By visually organizing tasks, Swimlanes offer a more comprehensive understanding of your project's progress. You can quickly identify bottlenecks, redundancies, or areas that need attention.
Optimize Workload Distribution: Swimlanes help you distribute workload efficiently. You can allocate tasks to the right team members or departments, ensuring that everyone is working at their optimal capacity.
Streamline Analysis and Adjustments: When you can see the big picture and the details simultaneously, making informed decisions becomes much easier. Swimlanes facilitate quick adjustments and allow you to adapt to changing project requirements seamlessly.
Using Swimlanes in Oracle Primavera Cloud 23
Oracle Primavera Cloud 23 has seamlessly integrated Swimlanes into its platform, making project management more accessible and efficient than ever. Whether you're managing a small team or a large enterprise project, Swimlanes can be a game-changer.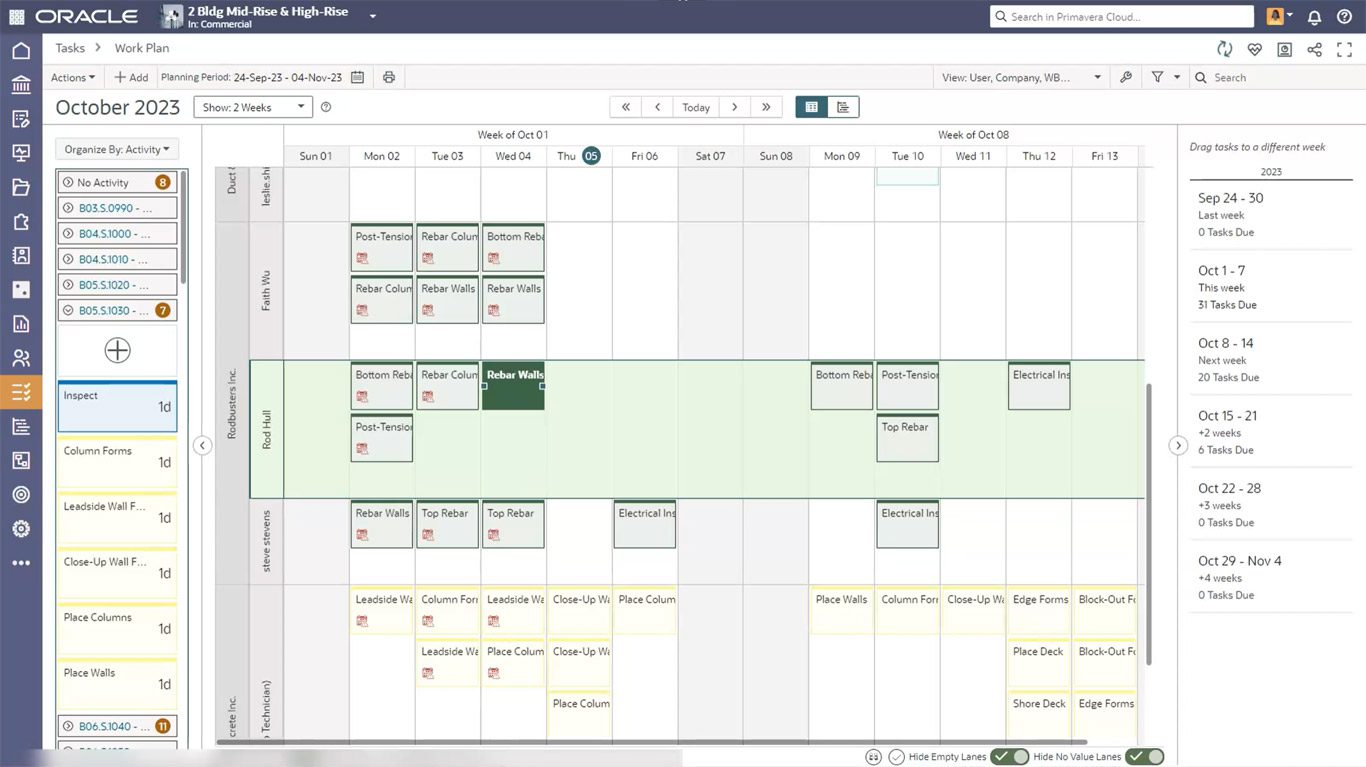 Mobile Accessibility:
In today's mobile-driven world, flexibility and accessibility are key. Oracle Primavera Cloud 23 understands this need and offers Swimlanes functionality on iOS devices. Now, you can keep track of your projects, analyze data, and make critical decisions on the go.
Conclusion
In the world of project management, having a clear understanding of responsibilities, workload distribution, and project progress is crucial for success. Swimlanes in Oracle Primavera Cloud 23 offer a visually intuitive way to achieve these objectives.
By using Swimlanes, you can optimize your project management process, identify areas for improvement, and ensure that every team member knows their role in the project's success. Whether you're at your desk or on the move, Oracle Primavera Cloud 23's mobile accessibility ensures that you're always in control.
Give Swimlanes a try in Oracle Primavera Cloud 23, and experience the difference they can make in streamlining your project management tasks and improving your project's overall efficiency. Stay ahead of the game with Swimlanes and take your project management to the next level.
Introduction Oracle's Primavera P6 Enterprise Project Portfolio Management (EPPM) software is a powerful tool for…
Read More