Discover What's New in Oracle Primavera Cloud 23.8!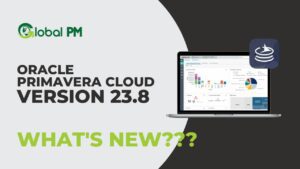 Oracle Primavera Cloud, a top-tier project management tool, has just rolled out its 23.8 version, packed with an array of new features. In today's blog, we'll delve into the primary additions in this update and shed light on how they elevate user experience and reinforce existing capacities. Let's get started!
WBS is Now Available on the Activities Page:




With the Work Breakdown Structure (WBS) now integrated directly into the Activities page, managing your activities and WBS is more seamless than ever. This eliminates the need to hop between pages, thus enhancing productivity and streamlining your workflow. Additionally, the introduction of dedicated WBS for scenarios, baselines, and the current schedule offers increased flexibility in the organization and monitoring of various project elements.
Refreshed Users Page:
Organizations using the Named User license model will notice a refreshed Users page in Global Admin. This updated layout has specific columns for each license type, streamlining the process of viewing, assigning, and revoking licenses for users.
Enhanced Mean Impact Charts:
Oracle Primavera Cloud 23.8 has enhanced the Mean Impact charts to now encompass schedule-driven cost increases, alongside showcasing how risks and activities lead to project delays. This upgraded perspective shows a deeper insight into the financial implications of a project. Armed with this knowledge, project managers can better strategize, make well-informed choices, and implement measures to curb delays and avoid exceeding budgets.
Enhanced Report Sharing:
Oracle Primavera Cloud 23.8 has revamped its report-sharing capabilities. Reports can now be auto-shared with child workspaces, bypassing the previous requirement for users to have permissions in the workspace where the report originated. This improvement steps up collaboration and ensures smooth report access for stakeholders, no matter what their individual workspace permissions are.
To sum it up, Oracle Primavera Cloud 23.8 rolls out a plethora of new and innovative features. With advancements like embedding the WBS on the Activities page, refining the Users page for better license oversight, extending the Mean Impact charts to capture schedule costs, and enhancing report-sharing functionalities, project management becomes more streamlined and collaborative. Harness the potential of these new Oracle Primavera Cloud 23.8 features with Global PM's Oracle Certified training and implementation team. Contact us today to learn more about Oracle Primavera software and training opportunities.
Revolutionizing Construction Estimating with AI: The Dawn of a New Era Introduction Project estimating, a…
Read More